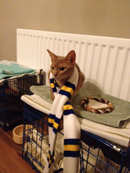 Gareth miller
Location: Leeds, West Yorkshire, United Kingdom
User description
www.facebook.com/garethmillertattoo
http://twitter.com/gmillertattoo
http://instagram.com/garethmillertattoo/
Latest listings
serge modular for sale

-

Leeds (West Yorkshire)

-

September 29, 2019

2400.00 £ Pounds

a chance to get a good as new -hardly used random source serge modular with 35 cables and external psu that can use up to 3-4 panels. also a usb to cv device. a reluctant sale as i have had this 3 months and not really had a chance to use...